Description of Olivie Riche / Olivie Force Organic
100 capsules
Protection against oxidative stress
Our capsules OLIVIE Richie receive health claim confirmed by the EFSA. Polyphenols of Olivie Riche (hydroxytyrosol, tyrosol, oleuropein ...) help to protect blood lipids against oxidative stress.
Exceptional ! Rich in polyphenol hydroxytyrosol unmatched
--> New concentration 2X more concentrated!
 Olivie Rich capsules, 100% natural, gather in a concentrated way the benefits of the olive.
Its concentration of hydroxytyrosol is even more exceptional! Its concentration was doubled to multiply its benefits:
Its concentration of hydroxytyrosol (> 30 000 mg / kg) is 4,000 times greater than a traditional olive oil (7 mg / kg)!
A rich in unrivaled hydroxytyrosol, this exceptionally bioavailable polyphenol and easily assimilated by the body
The highest ORAC value ever achieved: 3618 micromol TE / kg → 200 times turmeric!
Translation Olivie Plus 30x as capsules, richer in hydroxytyrosol 130 and 4000 times richer than a traditional olive oil.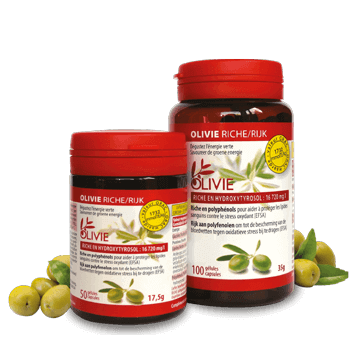 100% naturel
- Olivie Riche is obtained from certified organic naturally olives, physical extraction. Without addition of additives or solvents used. Our technical concentrates the beneficial and natural components of the Olive, such as hydroxytyrosol, tyrosol, oleuropein,...
-  90% of ingredients are from organic agriculture.
Gluten, wheat, lactose, yeast, artificial flavors, preservatives and dyes FREE.
Directions for use
2-6 capsules per day, with an empty stomach or between meals. According EFSA, the beneficial effect is obtained with the minimum daily consumption of 5 mg of hydroxytyrosol and its derivatives such as oleuropein, tyrosol, by 20 g of olive oil. In other words, rich Olivie is beneficial from the consumption of one capsule daily.
Ingredients
Extract olive* (Olea europaea L.) (90%), food clay (9%), hypromellose (vegetarian capsule Vcaps®).
*from organic agriculture