Description
Box of 345g, whether 8 to 10 meals, 4-5 portion / meals or 13 to 20 breakfast, 2-3 portion / meals
6x AminoBase = 3 weeks
8x AminoBase = 1 month
Find the Dr. Jacob's®  slimming program on Aminobase website (in french) 
Dr. Jacob's® nutritional advice (in french)
Intolerant or allergic to gluten / lactose. Can I drink AminoBase?
YES ! This food is perfect for intolerant / allergic to gluten or lactose (nearly 5 million French are lactose intolerant and 1% of the population is intolerant to gluten!) because AminoBase is gluten, fructose, lactose, additives, preservatives and sweeteners FREE. It is an exclusively vegetable formulation (amaranth, chickpea, pea protein, psyllium) and without chemicals!
AminoBase provides complete nutrition that you tolerate even in case of multiple allergies and intolerances:
Gluten FREE
Fructose et lactose FREE
Soy & nuts FREE
Milk based ingredients or eggs FREE
Additives, preservatives, sweeteners and flavorings FREE
Entirely appropriate in case of intolerance to histamine (if prepared without soy)
Energy, Immunity, Blood Sugar, Storing
AminoBase est naturellement riche en protéines, vitamines et minéraux qui contribuent à des fonctions biologiques saines (allégations santé confirmées par l'EFSA):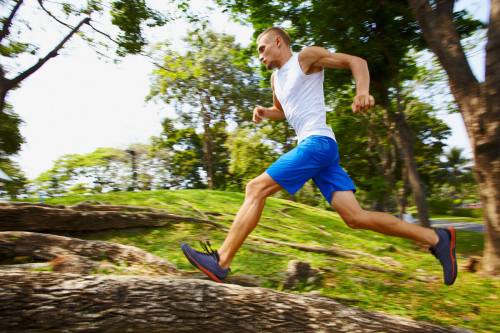 il contribue à un métabolisme énergétique normal (calcium, biotine, cuivre, iode, fer, magnésium, manganèse, niacine, acide pantothénique, phosphore, vit.C, B1, B2, B6 et B12)

il participe au bon fonctionnement normal du système immunitaire (zinc, cuivre, fer, sélénium, vit.C, A, D, B6, B9 et B12)

il joue un rôle dans le maintien d'une glycémie saine (chrome)

naturellement riche en iode, fer et zinc qui jouent un rôle dans une fonction cognitive normale (mémorisation, concentration)

du calcium nécessaire au maintien d'une dentition et d'os normal

riche en protéines pour contribuer à augmenter la masse musculaire et source de vitamine D, calcium, magnésium et potassium pour contribuer à une fonction musculaire normale

pauvres en sodium et riche en potassium pour contribuer au maintien d'une pression sanguine saine

sélénium, zinc, biotine et cuivre pour contribuer au maintien de cheveux normaux

thiamine pour contribuer à une fonction cardiaque saine
Pour toutes ces raisons, AminoBase peut être consommé, soit comme collation pour votre break de 16h afin de rester énergique et concentré jusqu'en fin de journée, au petit-déjeuner sans envie de grignoter avant votre repas de midi, ou pour toutes autres occasions où vous souhaitez apporter une nourriture saine, facile d'utilisation et savoureuse à vos journées.
Pour perdre du poids sans en reprendre
Aminobase est également un substitut de repas qui bénéficie de 2 allégations de l'autorité de la plus haute instance européenne, EFSA, confirmant son efficacité pour le maintien ou la perte de poids :
le remplacement de 2 repas quotidiens par AminoBase, qui constituera la ration journalière d'un régime hypocalorique, contribue à la perte de poids,

le remplacement d'1 repas quotidien par AminoBase, qui constituera la ration journalière d'un régime hypocalorique, contribue au maintien du poids après la perte de poids,
Concept AminoBase
AminoBase est le premier substitut de repas complet, sans lait et sans gluten, d'une formulation exclusivement végétale (amarante, pois chiches, protéines de pois, psyllium). AminoBase contient tous les nutriments importants et les substances vitales dans un rapport naturel et offre ainsi au corps un soin de base complet et sain.
Un concept unique en son genre : AminoBase est une nourriture biologique végétalienne globale à base purement végétale. Comme substitut complet de repas, AminoBase fournit tous les acides aminés essentiels, des glucides complexes, des fibres alimentaires, des acides gras essentiels, des vitamines et des minéraux. La combinaison d'amaranthe et de légumineuses donne un profil optimal en acides aminés à valeur biologique élevée.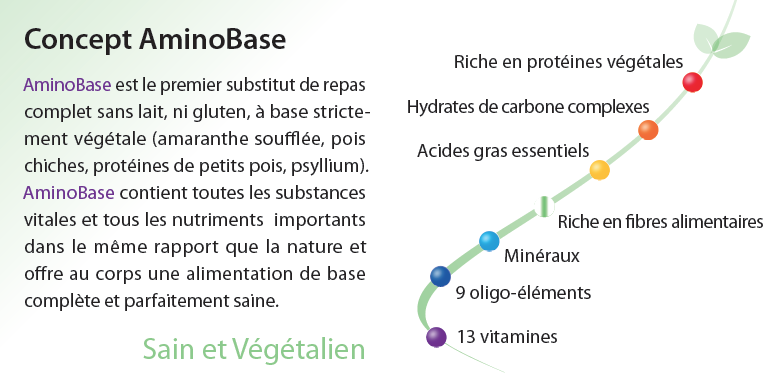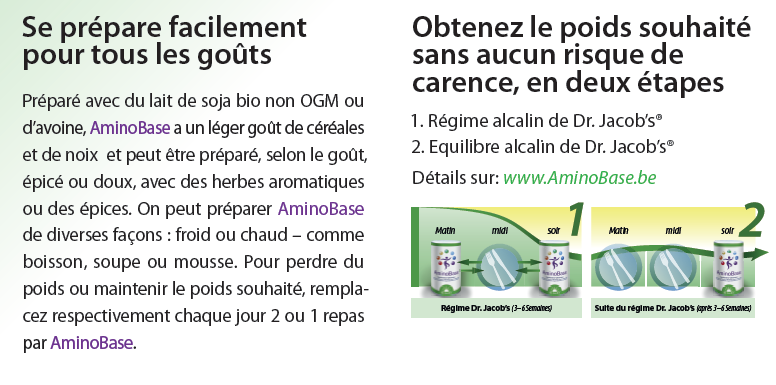 Convient comme repas adapté lors d'un régime amaigrissant ou lors d'une surveillance pondérale active
Riche en minéraux alcalins
Idéal lors de régimes et cures d'amaigrissement
Apport nutritionnel journalier complet d'origine végétale
Idéal pour végétaliens et végétariens
Riche en protéines et fibres alimentaires
Ne contient ni gluten, ni produits lactés, ni édulcorants, ni additifs, ni conservateurs, ni arômes
S'adapte à tous les goûts, convient comme boisson, soupe ou en mousse de lait.
Facile à utiliser, à savourer de différentes façons :
Préparé avec du lait végétal, AminoBase a un léger goût de céréales et de noix, et peut se savourer facilement de manières différentes : froid ou chaud, comme mousse de lait, boisson ou soupe. Vous trouverez de délicieuses idées de recettes sur www.aminobase.info
Valeurs nutritionnelles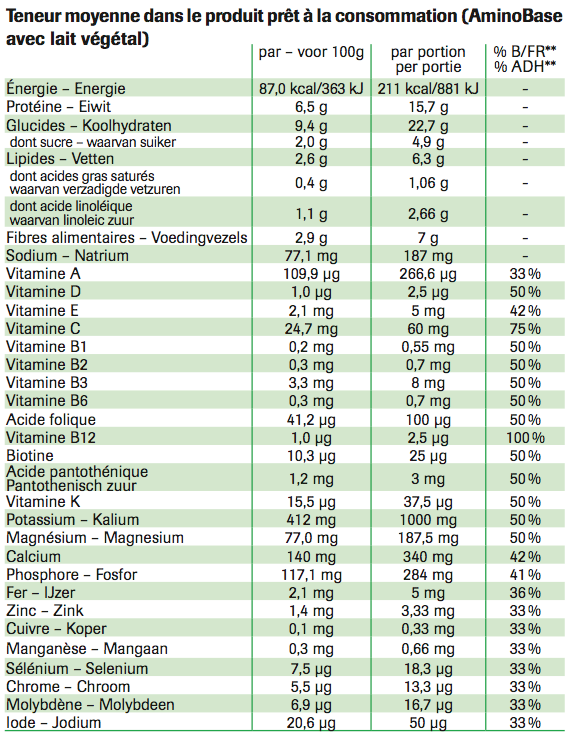 Remarques
Le régime amaigrissant AminoBase n'atteint les résultats espérés que dans le cadre d'une alimentation pauvre en calories. Veillez à l'apport suffisant de liquides pendant son utilisation (2-3 litres d'eau ou de thé non sucré par jour).
Une activité physique vous aidera à atteindre et à conserver le poids souhaité. Vous devez consommer d'autres aliments en même temps. AminoBase ne doit pas être utilisé comme substitut à une alimentation variée et équilibrée ni à un mode de vie sain.
Conseils d'utilisation
Pour une portion (ce qui correspond à un repas)
Mousse de lait : avec un fouet, mélanger 5 mesures d'AminoBase (43 g) à 200 ml d'un lait végétal (avec 2,3 g de sucre et 120 mg de calcium par 100 ml). (certains laits végétaux augmentent la teneur en sucre et en calories du produit prêt à la consommation).
Boisson : verser 5 mesures (43 g) d'AminoBase avec 200 ml d'un lait végétal et 200 ml d'eau dans un shaker/mixer et mélanger le tout convenablement.
Pour perdre du poids ou maintenir le poids souhaité, remplacer 1 à 2 repas par jour par ce mélange.
Recettes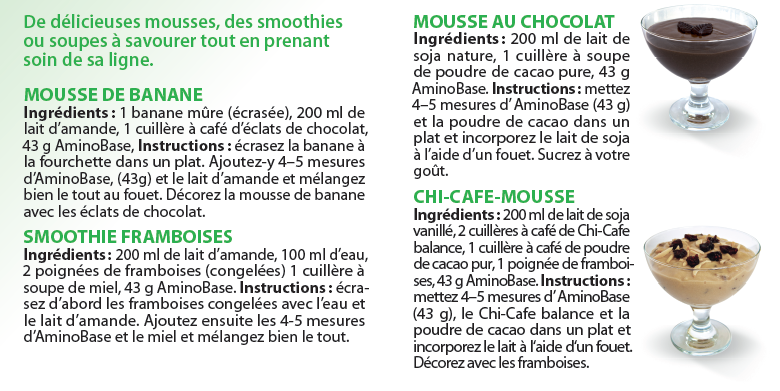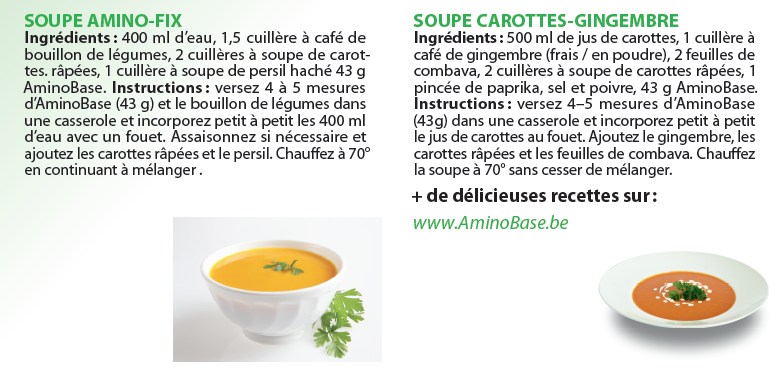 Consultez toutes nos recettes ! Téléchargez notre brochure sur AminoBase !
Repas pour une alimentation de surveillance pondérale
Ingrédients
amaranthe soufflé (50 %), farine de pois chiches, protéine de pois, citrate de potassium, plantain des Indes, citrate de magnésium, citrate de calcium, acide ascorbique (vitamine C), gluconate de fer, acétate d'alpha-tocophéryl (vitamine E), citrate de zinc, niacinamide (B3), iodure de potassium, gluconate de manganèse, alpha-phylloquinone (vitamine K1), calcium-D-pantothénate, molybdate de sodium, gluconate de cuivre, acétate de rétinol (vitamine A), hydrochlorate de vitamine B6, hydrochlorate de vitamine B1, riboflavine (B2), acide ptéroylmonoglutamique (acide folique), sélénate de sodium, chlorure de chrome-III, biotine, vitamine D2, cyanocobalamine (B12).
En savoir plus sur la composition de l'AminoBase
AminoBase
Organic food.   Active weight watch
containing amaranth, plant proteins, dietary fibers and alkaline minerals

Suitable as adapted meal in case of a reducing diet or of active weight watch. Rich in alkaline minerals – ideal in case of diet and reducing diet – whole daily nutritional supply of plant origin – ideal for vegans and vegetarians – rich in proteins and dietary fibers –no gluten, dairy products, sweeteners, additives, preservatives, flavours – fits all tastes as a beverage, soup or milk foam

AminoBase, a unique concept: AminoBase is a whole vegan organic food, a plant-based product. As a complete substitute for meals, AminoBase supplies all the essential amino acids, complex carbohydrates, dietary fibers, essential fatty acids, vitamins and minerals. The combination of amaranth and vegetables gives an optimal amino acids profile with a high biological value
Easy to use, can be savoured in different ways: prepared with vegetal milk, AminoBase has a slight taste of cereals and nuts; it can be drunk hot or cold as milk foam, beverage or soup. You'll find delicious recipes on www.aminobase.info

A portion (43 g) AminoBase (without addition of vegetable milk) contains:
Calories energy  
Fat : 2,7g > 3,9%
Saturated fatty acids : 0,47g > 2,4%
Salt : 0,09g >1,5%
Sugar : 0,3g > 0,3%
Dietary fibers 0,3g > 24%

The % of the values for the daily supply are based on a balanced diet of 2000 cal a day for an average adult

Remarks: the reducing diet AminoBase only gives the expected results when your diet is poor in calories. Make sure to drink enough (2-3 l water or unsweetened tea a day).
Exercise will help you to get and keep the desired weight. You must consume other kinds of food at the same time. AminoBase is no substitute for a varied and balanced diet and a healthy lifestyle.

How to use it: for a portion (= a meal)
Milk foam: With a whisk, mix 5 measures AminoBase (43 g) with 200 ml vegetable milk (with 2.3 g sugar and 120 mg calcium for 100 ml) (some vegetable milks  increase the sugar and calories content of the ready- to- drink beverage.

Beverage:  pour 5 measures (43 g) AminoBase with 200 ml vegetable milk and 200 ml water in a shaker/mixer and mix it all. To lose weight or keep the desired weight, use this mixture to replace one or two meals daily.

Ingredients: puffed amaranth (50%), chickpea flour,  pea protein, potassium citrate, desert Indian wheat, magnesium citrate, calcium citrate, ascorbic acid (vitamin C), iron gluconate, alpha-tocopheryl acetate (vitamineE), zinc citrate, niacinamide (B3), potassium iodide, manganese gluconate, alpha-phylloquinone (vitamin K1), pantothenic acid, sodium molybdate, copper gluconate, retinyl acetate (vitamin A), vitamin B6 hydrochloride, vitamin B1 hydrochloride, riboflavin (B2), pteroylmonoglutaminic acid (folic acid), sodium selenite, chromium oxide III, biotin, vitamin D2, cyanocobalamine (B12)