Description
Unique combination of Mediterranean plants extract.
A patented hydrosoluble tomato concentrate to improve your blood circulation!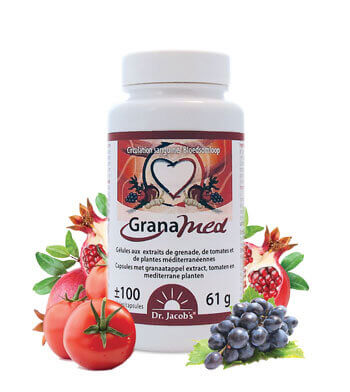 This tomato concentrate has 37 components that are involved and contribute to a good blood circulation.
No more heavy legs!
For who? Athletes, in case of stress, feeling of heavy legs or overweight
Quick effect and for a long time!
Their effect is felt between 1h30 à 3h after the consummation of the 4 capsules, for 12 to 18 hours! 
We advise you to take 4 capsules in the morning with your breakfast, if this doesn't contain animal protein (yogurt, milk, eggs, etc...) or you can also take if between your breakfast and lunch.
You will feel the effect and all day!
If you eat kilos and kilos of tomatoes, you will not get the same effects as the GranaMed
Its manufacture is patented, only the yellowish gel that is located around the tomato seed is used.
The tomato extract has a boost effect that is good for the blood circulation, which is confirmed by 15 clinical studies and by the European Food Safety Authority (EFSA)
The well-known effects of Fermented Pomegranate
GranaMed GranaMed includes all the benefits of GranaProsan, plus other beneficial components! 
Inspired many other plants of the Mediterranean diet
Extracts from olive leaves, rosemary, grape polyphenols, small galangal ...
And you, are you following the Mediterranean style?
Directions for use
The beneficial effects are obtained with a daily consumption of 4 capsules with a glass of water, not animal protein (EFSA).
1 pot = 100 capsules = ± 25 days = 4 capsules per day.
» Produits à base de grenade Tableau comparatif grenade fermentée
#

Elixir de Grenade

GranaProsan

Elixir Méditerranéen

GranaMed

Granaimun
Quantité
500ml
100 gélules
500ml
100 gélules
100ml
Polyphénols

dans 1 c.à.s
dans 2 gélules

360mg
360mg
400mg
250mg
230ml / 3ml
Fermentation (assimilation améliorée)

✔

✔

✔

✔

✔

Composants

Grenade Fermentée pour partie
Jus du fruit

Grenade 100% Fermentée lyophilisée

Grenade Fermentée pour partie
Concentré de tomates hydrosoluble
Raisins français

Grenade Fermentée
Concentré de tomates hydsoluble
Raisins français
Feuilles d'olivier
Extrait de Romarin
Galanga
Extrait d'écorce de pin (OPC)

Grenade Fermentée
Vitamines
Minéraux

Vitamines

✘

✘

✘

✘

B2
Minéraux
Potassium

✘

✘

✘

Zinc et Sélénium
Propriétés
Celles de la Grenade Fermentée
Bonne circulation sanguine
Bonne circulation sanguine

Favorise une bonne immunité
Maintien des muqueuses (bucco-pharyngée)

Dosage
2 c. à soupe/jour, en 2 prises
2 gélules, 2 fois/jour
2 c. à soupe/jour, en une prise
4 gélules/jour
3 x 25 gouttes/jour
Valeur PRAL*
-8 dans 20 ml
-0.8 dans 4 gélules
Moment de prise ?

Eloigné des protéines animales (poissons, viandes, oeufs, lait...).
Entre le petit-déjeuner et le repas de midi puis entre le repas de midi et le repas du soir (par ex. 10h/16h ou avant le coucher).
Possibilité de consommer avec les protéines végétales (diluer dans une boisson végétale (de soja, de noix) ou dans une salade de fruit avec du citron).

Forme
Liquide
Gélules
Liquide
Gélules
Liquide
Sans gluten, ni lactose

✔

✔

✔

✔

✔
*La valeur PRAL (PRAL : Potential Renal Acid Load) est une valeur fréquemment utilisée pour évaluer l'effet acidifiant ou alcalinisant des aliments. Cette valeur indique la charge acide potentielle des reins (ou la production d'acide) induite par la consommation d'un aliment.
Plus la valeur est élevée, plus l'excrétion d'acide par les reins est importante.
✔ Les aliments ayant une valeur PRAL négative sont alcalins, équilibrent les acides et soulagent ainsi les reins.
✔ Plus la valeur PRAL est négative, plus les acides sont équilibrés.