Description
Unique combination of Mediterranean plants extract.
A patented hydrosoluble tomato concentrate to improve your blood circulation!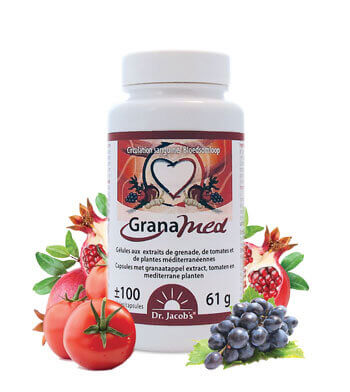 This tomato concentrate has 37 components that are involved and contribute to a good blood circulation.
No more heavy legs!
For who? Athletes, in case of stress, feeling of heavy legs or overweight
Quick effect and for a long time!
Their effect is felt between 1h30 à 3h after the consummation of the 4 capsules, for 12 to 18 hours! 
We advise you to take 4 capsules in the morning with your breakfast, if this doesn't contain animal protein (yogurt, milk, eggs, etc...) or you can also take if between your breakfast and lunch.
You will feel the effect and all day!
If you eat kilos and kilos of tomatoes, you will not get the same effects as the GranaMed
Its manufacture is patented, only the yellowish gel that is located around the tomato seed is used.
The tomato extract has a boost effect that is good for the blood circulation, which is confirmed by 15 clinical studies and by the European Food Safety Authority (EFSA)
The well-known effects of Fermented Pomegranate
GranaMed GranaMed includes all the benefits of GranaProsan, plus other beneficial components! 
Inspired many other plants of the Mediterranean diet
Extracts from olive leaves, rosemary, grape polyphenols, small galangal ...
And you, are you following the Mediterranean style?
Directions for use
The beneficial effects are obtained with a daily consumption of 4 capsules with a glass of water, not animal protein (EFSA).
1 pot = 100 capsules = ± 25 days = 4 capsules per day.
A question ? A specific need ? Contact our scientists
Sandra Cascio

Nutrithérapeute Cerden
Master en biochimie et biologie moléculaire et cellulaire, ULg

---

Lundi : 8h30 à 17h00
Mercredi et vendredi : disponible par email

03 66 88 02 34 (France)

04/290 00 72 (Belgique)

Si vous êtes en dehors de la Belgique 00 32 4 290 00 72

Fabien Piasco

D.E.S.S. en nutrition Alimentation fonctionnelle et santé (U. Laval, Ca)
D.U. Nutrition et maladies métaboliques (U. Rennes I)
Diététicien D.E. / Diplômé en neuro-nutrition (SiiN)

---

Lundi et jeudi : 9h00 à 12h00 & 13h00 à 19h00
Mardi : 14h00 à 19h00
Vendredi : 9h00 à 12h00

04 85 44 01 24 (France)